Behavioral Strategies for Smoking Cessation:
Practical Tools for Busy Primary Care Clinicians 
Updated 2020 
This activity is provided by the Nurse Practitioner Healthcare Foundation at no cost to participants.
Please review all of the CE information below regarding this activity before you click on the PPT link at the bottom of this page.  
Once you've started, proceed with the activity until you have successfully completed the program and evaluation. Link to evaluation can be found at the end of the presentation. For ease of viewing, participants are advised to read powerpoint in slide show format. After submitting the evaluation, you will receive a digital copy of your certificate of completion, which will be emailed to the address you provided on your evaluation survey.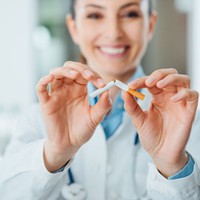 Format:
Interactive Monograph
Time to complete:
2 hours
Released:
June 2020
Expires:
June 2021
Maximum Credit:
2.0 Contact hours for Nurse Practitioners and Registersed Nurses including 0.5 pharmacology contact hour. 
Program Description
This program is designed to increase the skills, motivation, and confidence of NPs and RNs to address smoking cessation with their challenging, non-adherent patients as well as patients who continue to smoke despite the efforts of their healthcare providers or in spite of the patient's repeated expressed commitments to quit. Best practices for clinical treatments for smoking cessation among challenging persistent smokers will be presented, along with concrete behavioral counselling tips, references, and evidence-based resource materials. The goal of this program is to motivate and re-energize healthcare providers to treat and counsel smoking cessation more effectively and efficiently, especially for those patients who persist in smoking.
Intended Audience
Nurse Practitioners and Registered Nurses
Educational Objectives:
As a result of participating in the activity, learners should be better able to:
Describe specific skills to effectively motivate and engage persistent smokers in a collaborative smoking cessation treatment plan

Assess patients' readiness to quit and stage of change utilizing evidence-based tools

Select the appropriate pharmacotherapeutic and nicotine replacement options for smoking cessation

Develop a smoking cessation treatment plan for patients who desire to quit smoking

Demonstrate screening, risk assessment, and behavioral strategies to enlist patients' commitment to quit smoking.

Integrate e-cigarette use into their behavioral strategies for smoking cessation.
FACAULTY
Sean M. Hayes, PsyD
Clinical Psychologist
Healthcare Behavioral Change Strategist
Montreal, Canada
Dr. Hayes discloses no conflicts of interest.

Jennifer Marjama, PA-C
Certified Physician Assistant
Physical Medicine and Rehabilitation
Southeastern Integrated Medical
Chiefland, FL
Ms. Marjama discloses no conflicts of interest.

Marjorie Wells, PhD, FNP
Project Director and Lecturer
Smoking Cessation Intervention
UCLA School of Nursing
Los Angeles, CA
Dr. Wells discloses no conflicts of interest.
Contributing author (E-cigarettes):
Marjorie Crabtree DNP, ANP, FNP - Lead Nurse Planner, Nurse Practitioner Healthcare Foundation
Ms. Crabtree discloses no conflicts of interest
Accreditation Statement
The Nurse Practitioner Healthcare Foundation is accredited as a provider of continuing nursing professional development by the American Nurses Credentialing Center's Commission on Accreditation. This course is approved by the Nurse Practitioner Healthcare Foundation, California Board of Registered Nursing, CEP# 16441
Conflict of Interest & Disclosure Policy
NPHF has implemented a process to identify and resolve conflicts of interest that may exist which might affect the independence and fair balance of an educational activity. All planning committee members, authors and speakers were required to disclose relevant financial relationships with any commercial interest. There were no potential or real conflicts of interest disclosed.
Accredited Provider Disclosures
Pam Jenkins, MS, NP (Past) Program Director and Lead Nurse Planner Nurse Practitioner Healthcare Foundation Salinas, CA
Ms. Jenkins discloses no conflicts of interest.Phyllis Zimmer, MS, FNP, FAANP, FAAN President and Nurse Planner Nurse Practitioner Healthcare Foundation Bellevue, WA 
Ms. Zimmer discloses no conflicts of interest.
Partner Disclosures
Integrated Learning Partners, LLC (ILP) and Consultants in Medical Education (CiME) reported no conflicts of interest.

Behavior Strategies for Smoking Cessation PPT (24.4 MB)