2020-2021 Winner
Madeline R Lepore, BSN, RN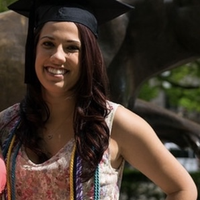 Madeline R Lepore, BSN, RN  is completing her DNP in the Psychiatric Mental Health Nurse Practitioner Program at the University of Pittsburgh and currently works as a Psychiatric Nurse in the Dual Diagnosis Inpatient Unit at Western Psychiatric Institute and Clinic.  She dedicates her personal time to volunteering underserved at Prevention Point Pittsburgh, a needle exchange program for people with substance abuse disorder, LGBTQIA and the homeless. She created a DNP project focused on syringe stigmatization and discrimination with a goal of expanding access to sterile injection and services for these underserved populations.  She is passionate about recovery, safe substance use, gender affirming care, homeless youth, and bi-polar disorder.  After graduation she plans to focus her practice on street psychiatry in her hometown Pittsburg.
Exemplifying extraordinary leadership to make a positive impact on her community,  as well as a commitment to advance the mental health of the most chronically underserved populations, Madeline is well-deserving of the NPHF/Proctor & Gamble Community Scholarship Award.  
2019-2020 Winner
Loyda Braithwaite, MSN, RN, AGPCNP-BC, AOCNP, ACHPn


Loyda Braithwaite is an Oncology Nurse Practitioner at the University of Wisconsin Carbone Cancer Center.  She has over 15 years of nursing experience, and has dedicated most of her career to cancer care.  She was born and raised in Panama, where she obtained a BSN from the University of Panama.  In 2009 she moved to the Unites States, and in  2015 obtained a MSN in Adult-Gerontology Primary Care Nurse Practitioner with Oncology Specialty from Loyola University Chicago.  She is currently a PhD-Nursing student at the University of Wisconsin, Madison.
As a Nurse Practitioner, Loyda specializes in the management of patients with solid malignancies and is currently the NP for the Breast Cancer team at the UW-Carbone Cancer Center.  Ms. Braithwaite is dually certified as an Advanced Oncology and Hospice & Palliative Care NP.
Being an immigrant inspired Ms. Braithwaite to dedicate her career to cancer care in underserved and minority populations.  This has led to serval opportunities for service, education, and volunteering nationally and internationally.  Currently, she leads the only Hispanic Breast Cancer Support Group in Dane County, WI, and is a co-investigator/spanish-speaking recruiter for the Patient Experience USA (Breast Cancer) research project.  She has volunteered as a clinician in orthopedic surgeries for low-income patients and in rural communites in Latin America, as well as an oncology nurse educator for nurses in Panama, Honduras, the Dominican Republic, and Columbia. 
As a nurse scientist, she envisions a research career focused on cancer care disparities, more specifically understanding the needs of Hispanic and Latino patients.  She is particularly interested in immigration status as a social determinant of health in cancer care.  As a PhD-prepared nurse, she aims to reduce disparities in cancer care among Hispanic and Latino patients in her community and abroad, as well as to advance the nursing science through research, education, and public policy advocacy.